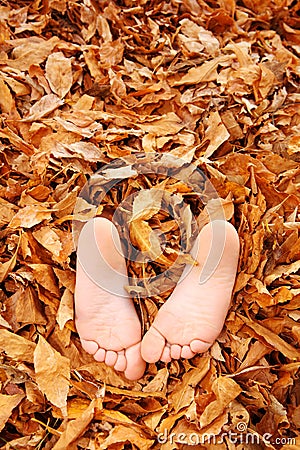 Pile them up … Take a leap … Pile them up … Take a leap … Bury someone … Run from the leaf monster … Pile them up… My kids can play in the leaves for hours. An adult can burn around 250 calories raking leaves. Think of the exercise your kids are getting with all that running and jumping.

Playing in the leaves will become one of your kids' fondest memories. All ages can enjoy it together and it doesn't take any special skills to join in.

It's a good idea to get a few child size rakes so everyone can help out and avoid fighting over the rakes. You can order them on the internet at Amazon.com or Forsmallhands.com. You can also occasionally find them at box stores or toy stores.

If your kids need a little help getting started, play games like raking the leaves into shapes, or making the biggest pile. It won't take long until you can leave them to themselves and they'll make up the rules.

Kids won't only be using their muscles but their imaginations. It also doesn't hurt to get them to help with the yard work. When they're all done playing teach them how to bag or compost the leaves.

Fall is a great time of year for outside activity. You can avoid the hot and sweatiness of summer and so kids will play outside longer. Parks are a lot less crowded at this time of year both during and after school hours.

Your kids will be good for hours with a jacket and some light cotton gloves. Be more careful on windy days because the wind can really be biting.

Though there isn't a big chance for dehydration at this time of the year, you still need to make sure they're drinking. Finish play time with some spiced cider or hot chocolate for the really chilly days.